ScubaDance
The name ScubaDance was based on a story by Spider and Jeanne Robinson, called Stardance;
dancers in space were able to perform weightless choreography and thus communicate with alien species.
In ScubaDance, weightless Scottish Country Dancers communicate with underwater species and each other.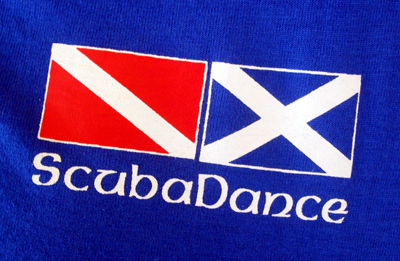 ScubaDance I was held in Bonaire, April 13-20, 2002. The original information on the trip is here.
The Buddy Dive Resort web site contained a story on the event; it is reproduced here.
Our own report on the trip is here.
A short video of part of an underwater Scottish country dance is here.
---
ScubaDance II returned to Bonaire, May 29, 2004, to June 5, 2004.
See an official flyer for the event, and click here for a complete FAQ.
---
ScubaDance III took place in Okinawa, November 25 to December 7, 2004.
Only six dancers took part, but the logo was terrific.

---
ScubaDance IV returned to Bonaire, January 21-28, 2006.
Seven dancers took part.
---
ScubaDance V took place at CoCo View Resort in Roatan, November 1-8, 2014.
Twenty divers/dancers participated; the trip was full.
The Honduran flag with five stars also denotes ScubaDance 5.

---
ScubaDance VI took place at Sunset House in Grand Cayman, June 4-11, 2016.
Twenty dancers participated.
The official trip shirt is available at CafePress (right-click the link and open in a new tab); the trip was one of many during 2016 that were part of the OceanGeeks 75-Days-of-Diving 2016 World Tour.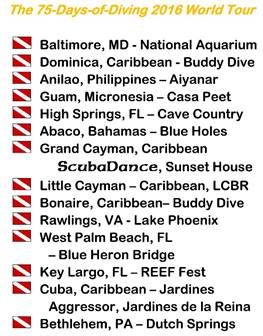 ---
ScubaDance VII was supposed to take place June 9-16, 2018, at Buddy Dive and the Fort Young Hotel in Roseau, Dominica. The flyer is here. However, hurricane damage on Dominica caused us to move to Saba. We stayed at the Queen's Gardens Resort and danced on their wooden floored conference room. We dived with Sea Saba. The revised flyer is here. The logo included the flag of Saba.
<![if !vml]>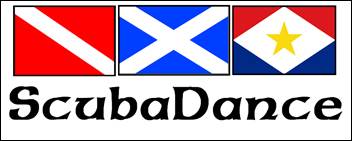 <![endif]>
Sixteen people participated; here is the group picture.
<![if !vml]>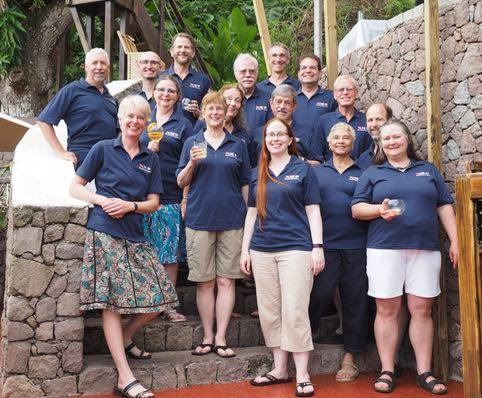 <![endif]>
---
ScubaDance VIII will take place in 2020, dates and location TBD.
---
Contact Mel Briscoe for further information on ScubaDance.
Last modified 20 June 2018.